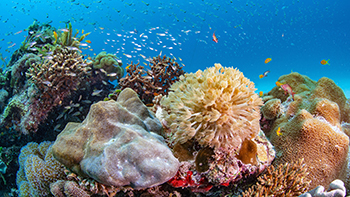 In celebration of Earth Day on 22 April, local manufacturer Pratley highlights how one of its high-performance adhesive products is assisting Oceans Without Borders to preserve the coral reefs around Mnemba Island near Zanzibar. Here the uniquely South African adhesive Pratley Putty is being used to secure and restructure endangered coral reefs off the coast of Zanzibar.
Coral reefs are dubbed the rainforests of the sea as they play a critical role in preventing marine ecosystems from disappearing. They are home to 25% of our marine life. Established in mid-2021, the Coral Nursery Project spearheaded by Oceans Without Borders has become a beacon of hope. "In keeping with Earth Day's philosophy, Pratley is excited and honoured to be part of this project to protect, manage, and restore nature," states Pratley Marketing Director Eldon Kruger.
Oceans Without Borders is using marine rangers to maintain and nurture the coral gardens. Here the local reef is a living laboratory for reef restoration. Broken pieces of parent coral are collected from all over the reefs. The fragments are transformed into new coral pieces, whereby each fragment is secured to a special disc with Pratley Putty and added to the underwater coral nursery table.
Algae is scrubbed off every disc along with its coral fragment to ensure healthy growth. It takes about three months for these coral fragments to grow into new colonies, at which point they are ready to be transplanted back into the reef.
Pratley Putty is a slightly water-soluble, hand-mouldable, high-performance putty-like adhesive. It is ideal for use underwater, but can also fill, seal, build up and bond almost any rigid material. "Pratley Putty has proven to be stronger and longer-lasting in seawater than any other glue we tested, thereby giving the transplanted coral the best chance of survival," adds Dr. Tessa Hempson, Principal Scientist with the restoration project.
Such is the strength of Pratley Putty that it has even been used to refloat partially sunken ships and repair boats at sea. It is widely used in the aquarium keeping hobby for securing rock and coral fragments.
"This is not the first time Pratley Putty has been used in conservation projects," continues Kruger. A green sea turtle had its damaged shell repaired with Pratley Putty, while researchers have used Pratley Putty to stick radio transmitters to the scales of pangolins while studying them in the wild. Since its launch in the early 1960s, Pratley Putty has become a household name, with a myriad of uses.
Pratley Putty was even used by the American space agency onboard its Ranger moon-landing craft. This led to Pratley Putty acquiring its global fame as the only South African manufactured product to go to the moon. Pratley Putty's strength and reliability reinforce the company's mantra of producing products that will outperform all others on the world market.
With fragile oceans under increasing pressure from a range of threats, and the livelihoods of millions at stake, Africa Foundation, in collaboration with &BEYOND, embarked on the Oceans Without Borders initiative to preserve some of Africa's most important and threatened marine ecosystems. Learn more about this project and others by visiting https://www.oceanswb.org.
Photo credits:
Chris Barfoot and Mark Ziembicki.