South African manufacturer Pratley aims to launch at least three unique electrical termination products in 2021 aimed specifically at the offshore, oil and gas, industrial and shipping industries, all of which present particularly arduous and hazardous operating environments. "It is a really exciting time for us," comments Sven Breedt, who heads up the electrical R&D division.
"The offshore market represents some of the most challenging conditions you can encounter, with extreme cold and air saturated with corrosive salt. Currently, most equipment used in this sector is manufactured from specialised materials. We think we have some improved solutions for these problems that will result in some unique products," elaborates Sven.
At the beginning of the year, Pratley launched its world-first Ex d/e corrosion-resistant Enviro compression cable gland. "We have had a lot of international enquiries and are currently certifying this product for use in the US and the European Union. Indeed, the feedback we have received has resulted in the latest developments we are bringing to the market to supplement our range."
While cable glands are relatively low-cost items compared to some other electrical equipment, they are safety-critical elements in any electrical reticulation setup. "We push the boundaries in what we can achieve in terms of design engineering and safety, from the materials themselves to an array of cost-effective measures incorporated into our products," points out Sven.
Pratley operates two test and research laboratories at its Krugersdorp manufacturing facility, which places it in the top league of electrical-equipment manufacturers globally. The fully-equipped laboratories are staffed by world-class scientists and technicians such as Sven, who is regarded as a global expert in the science and standards of electrical equipment for hazardous areas.
The electrical testing laboratory has the distinction of having more state-of-the-art equipment than the SABS itself, even to the extent that other accredited laboratories approach the company to make use of its advanced equipment. Here, Sven oversees product development and research, including the complete product lifecycle, with his department designing all the necessary tooling and machinery for production.
In addition to having ISO 9001 quality management accreditation, the electrical testing laboratory complies with ISO 17025 in terms of its processes and calibration accuracy. Pratley is able to test its own products in-house, with the oversight of an international laboratory, to all of the IEC 60079 series of standards for hazardous areas, and the two main European ATEX directives for explosive atmospheres. "I would go so far as to say we have one of the most advanced laboratories in this field in the country," asserts Sven. Pratley's in-house testing capability has been acknowledged by other international laboratories as being world-class.
Equipment ranges from a salt-spray tester for corrosion testing, an environmental chamber that ages materials at different temperatures and humidities, a dust chamber to look at the ingress of dust particles into electrical enclosures, impact testers to gauge the impact resistance of electrical equipment, water ingress equipment to determine the level of water-tightness and tensile-strength testing equipment for material development.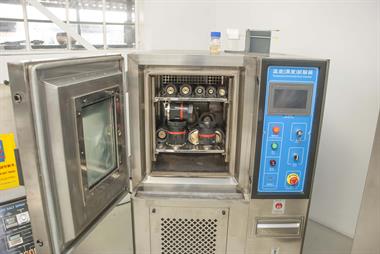 "We have a new ultra-low temperature deep freeze and are looking to expand this service going forward as it is so specialised. By being able to test to minus 86°C means we can guarantee that a product can operate in practically any environment on Earth. We have also acquired a few additional smaller machines and recently upgraded our tensometer. We are looking at procuring much more equipment in early 2021," reveals Sven.
He explains that product development involves a multi-pronged approach. "We use customer feedback as a basis to see what the market is looking for. We also draw on our own expertise to ascertain any gaps in the market and how we can service that need. A parallel development process allows us to push the boundaries of what can be achieved in terms of the most optimal solutions and products," concludes Sven.