Pratley, the renowned manufacturer of innovative electrical termination products, has developed and launched a ground-breaking new product, the Flameproof Ex d Envirobox®. This is the world's first polymeric, corrosion-resistant, direct-entry, flameproof junction box.
Its recent launch signals a major milestone in the electrical industry and has been confirmed by Pratley Electrical Research & Development Manager Sven Breedt as: "A new product unlike any other in the world and one of Pratley's most innovative electrical inventions."
Flameproof equipment is designed to prevent internal ignition within a flammable atmosphere from transmitting outside the protective enclosure. However, all traditional direct-entry flameproof junction boxes made from steel, cast iron or aluminium materials can be prone to corrosion over time and when used in very harsh environments. Special attention needs to be given not just to the overall climatic conditions of the area where the enclosures are installed, but also to the material and design of the equipment.
Pratley's new Flameproof Ex d Envirobox® junction box, made from a specially formulated, robust engineering polymer, is designed to withstand severe environmental conditions. This makes it ideal for use in areas with a high risk of corrosion, such as offshore oil platforms, underground mines, and petrochemical plants.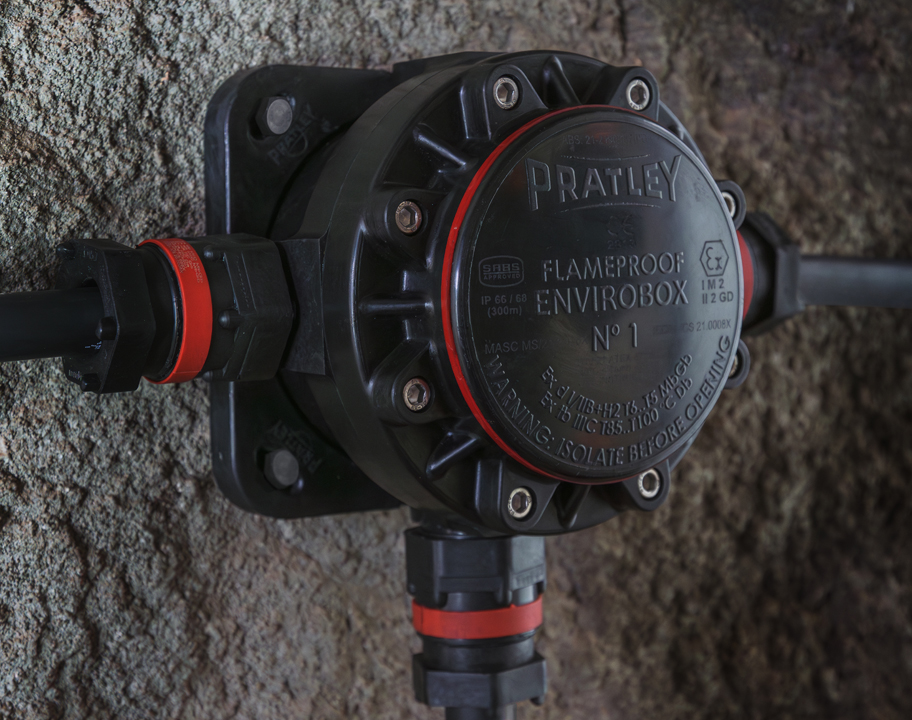 "The need for a lightweight and corrosion-resistant flameproof junction box is evident with the current, ever-changing mining environment," says Sven. "Over a decade's worth of research and development went into the design and development of this junction box."
The specially formulated, robust engineering polymer is unique to Pratley. The material has exceptional mechanical properties such as strength, stiffness, creep, dimensional stability and more. This ensures that the Flameproof Ex d Envirobox® can withstand 2x 20-joule impact tests in a staggering -40°C environment and has been third-party tested to a massive 4 000-kilopascal internal pressure. Additionally, it is IP66/68 certified for continuous underwater depths of up to 300m, making it water, dust, and gas-tight.
The lid and base have an accurately machined flame path. "The flame path surface of traditional Ex d junction boxes is coated or greased to prevent corrosion. However, this is not a long-term solution as the coating can wear off and greases would need to be reapplied periodically," continues Sven.
The engineering polymer of the Envirobox® ensures that the flame path is completely corrosion-resistant. The machined surface flame path renders the junction box safe, easy to use and maintenance-friendly in surface and underground mining applications. The lid is fastened down with eight stainless steel A2-70 Allen head screws, contributing to the corrosion resistance of the junction box, and it has Pratley's signature red Ex identification band for quick Ex equipment identification.
The junction box is supplied standard with 4 x M25 entries but can be supplied with M20 entries or smaller entries on request. The box can accommodate Pratley Ex d flameproof cable glands and accessories. The junction box is therefore exceptionally versatile. Each box is supplied as a standard two-way box with 2 x flameproof blanking plugs.
It can safely accommodate terminals, connectors, relays, and any other non-energy storing devices. The internal bosses are drilled and tapped to provide an earthing point for terminal mounting rails or earth lugs. These are electrically connected to the box entries providing complete earthing continuity.
Boxes can be fitted with an N35 terminal rail, a Pratley patented Cranked rail , an inverted Cranked rail, or Piggyback rails. Pratley Kwikblok® terminals and pre-cut lengths of cable with glands can also be factory fitted to customer requirements.
It has an optional external earthing point and is supplied with 4 x M6 Nuts and washers as well as a 1 x M6 Spring washer. The box has threaded mounting M5 holes and can accommodate an indexable mounting plate that can be purchased separately if required.
The Flameproof Ex d Envirobox® is fully certified to SANS, EN and IECEx Standards for use on surface and underground mining applications (Ex db I/IIB+H2 T6..T5 Mb Gb, Ex tb IIIC T85..T100 Db) in Zone 1, 2, 21 & 22 and an ambient temperature range of -40°C to +55°C.
Pratley's Flameproof Ex d Envirobox® is a revolutionary junction box that sets a new standard in the electrical industry.
"I am confident that what Pratley has produced is a product that not only complies with our policy statement of producing products that outperform all others on the world market but exceeds that policy. Our goal was to produce the only direct entry junction box that is corrosion resistant, and the launch of the Pratley Flameproof Ex d Envirobox® certainly achieves that goal. It is a world first, and I see it marking the future of electrical termination products for explosive atmospheres," concludes Sven.